Autumn Roses and The Hukilau
"Sometimes it is the artist's task to find out how much music you can still make with what you have left." –Itzhak Perlman
Last June I started spending most Thursday mornings with the Mother Pluckers, a group of ten women aged 48 to 80 who have been strumming ukuleles and singing together for about four years. They are an amazing bunch with a wealth of experience from their other, non-ukulele lives: jeweler, psychologist, university professor emeritus, artists, middle school teacher, art quilt maker, photographer, world-class sailor. What they have in common is their dedicated effort to learn new stuff on the ukulele, to make music together.
Today four of us provided music when the Make-A-Wish Foundation and Wells Fargo Advisors gave a ten-year old boy and his family a trip to Hawaii. The whole 35th floor of the Wells downtown offices took on a South Seas flair: the reception area a tiki hut, a corner office done over as an undersea grotto, the big conference room luau-ready, everyone in Hawaiian garb.
The boy, who is battling leukemia, seemed at first overwhelmed by all of this – or maybe it was our lusty rendition of Aloha Week Hula? He hid behind his father. But he warmed up as we launched into The Hukilau, and he donned swim goggles and 'swam' into the undersea room, searching for gifts under the hip-high balloons. He seemed quite pleased with the shave ice and pineapple pizza luau lunch, as well.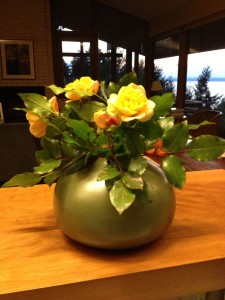 Back home, Izzi and I headed out for our walk. There's a bite in the air, and I expect there will be frost tonight. I clipped the last baby roses so we might enjoy them a few days longer. And I thought how here I am in the autumn of my life, still trying to bloom. And how my sisterhood of strummers shows the way. Like music, stories come out of the ideas and insights, skills and experiences we gather along the way. In fact, that's how this blog post came to be.
– First posted November 9, 2012 on our critique group blog, BooksAroundTheTable.
Tags: Make A Wish foundation, Mother Pluckers, music, roses, ukulele